THE ART OF CONSTRUCTION
Civil and Structural Engineers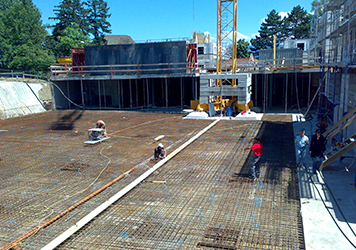 With over 40 years of experience in providing civil and structural engineering services, we provide modern solutions, meeting today's requirements and planning for our client's future needs. Based in Geneva, Switzerland, we have designed and executed a large number of medium and large sized civil and structural projects. These projects have included area and infrastructure developments, large housing complexes, as well as modern townships with shopping centers, clubs and schools, university campuses including administrative buildings, and commercial buildings in reinforced concrete, steel and wood.
We are a member of :
Société Suisse des Ingénieurs et Architectes, SIA
Fondation du Registre Suisse des Ingénieurs et Architectes, Reg.A
Groupe spécialisé des ponts et charpentes SIA
Ingénieurs civils reconnus par l'État de Genève comme mandataires professionnellement qualifiés, MPQ
The American Society of Civil Engineers, ASCE
The American Concrete Institute, ACI
The American Institue of Steel Constructors, AISC
"Architecture is the learned game, correct and magnificent, of forms assembled in the light." – Le Corbusier.
Private Villa (CH)
ebadi
2019-04-17T21:05:32+02:00